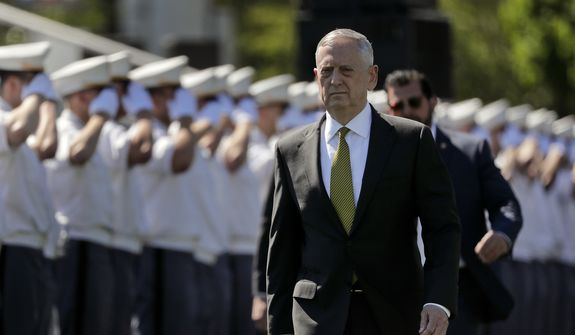 U.S. military strategists at the Pentagon have a military solution in place to address the growing threat emanating from North Korea, but they are holding their fire in favor of ongoing diplomatic efforts by Washington and its allies, Defense Secretary James Mattis said Thursday.
The Pentagon chief remained largely mum on the details of that military solution, which theoretically would curb Pyongyang's efforts to develop a nuclear-capable, ballistic missile arsenal, except to say any military option would be a multilateral one involving a number of regional powers in the Pacific.
"Do I have military options? Of course, I do. That's my responsibility, to have those. And we work very closely with allies to ensure that this is not unilateral either … and of course there's a military solution," Mr. Mattis told reporters en route to meet with senior leaders in the technology sector in Seattle and California.
The former four-star general declined to provide any additional insight to a statement released Wednesday, warning that the North's continued provocations — including alleged plans for an attack against U.S. forces in Guam by Pyongyang — "would lead to the end of its regime and the destruction of its people."
Instead, Mr. Mattis reiterated that the administration's diplomatic efforts to quell tensions on the peninsula remained the top priority for the White House.
"We want to use diplomacy. That's where we've been, that's where we are right now. and that's where we hope to remain. But at the same time, our defenses are robust" and ready to take on any threat posed by the North Korean regime, Mr. Mattis said.
Source: The Washington Times (US)