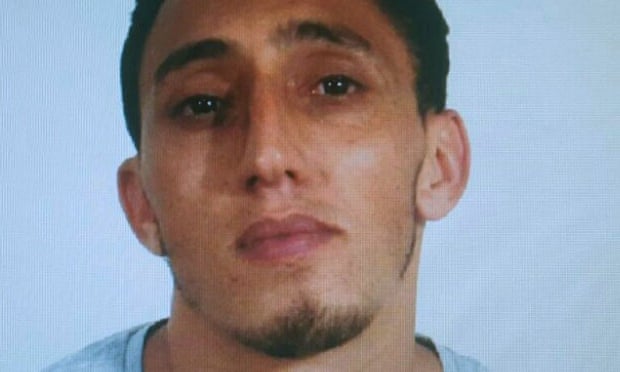 Spanish police link Barcelona van atrocity with car rampage in town of Cambrils and earlier explosion in Alcanar that destroyed a house.
Five suspected terrorists have been shot dead by Spanish police in the coastal town of Cambrils, south-west of
Barcelona
, after they drove into pedestrians as part of what appeared to be the country's second terror attack in a day.
Some of the suspects, who were travelling in an Audi A3, wore what appeared to be explosive belts, later found to be fake. The attack came hours after a van mowed down shoppers and tourists in Barcelona's famous Las Ramblas district, killing 13 and wounding about 100.
The attack in Cambrils, where six bystanders and a policeman were also wounded, ended a day of bloody violence along the Catalan coast, which the police said was the work of a terrorist cell determined to "kill as many people as possible".
Video footage from Cambrils, 75 miles (120km) from Barcelona, showed three bodies on the ground in the town's port. The police urged residents to stay indoors and later carried out controlled blasts on suspected explosive devices, amid reports the suspects had been wearing suicide vests or belts.
Part of the cell is thought to have blown itself up in the early hours of Thursday morning while trying to assemble a bomb in a house in another coastal town, Alcanar Platja, 120 miles south along the coast from Barcelona. One person was killed and another wounded in an initial explosion that destroyed the house. Police and firefighters who came to the scene were wounded by a second blast.
The Alcanar explosions were initially reported to have been caused by gas cylinders. The alleged link with a terrorist cell was revealed by the police only after the Barcelona attack.
At 5pm on Thursday a white Fiat van veered off the road and into a crowd on to the pedestrian section of Las Ramblas, the popular and celebrated Barcelona thoroughfare. The van drove through groups of people, sending pedestrians and cyclists flying, and stopped over a mosaic by the artist Joan Miró. Of the 100 victims injured in the Barcelona attack, 15 were said to be in serious condition.
The driver fled on foot and was pursued by police. Streets and parking garages were combed for other vans thought to have been rented by the suspected terror group.
"As far as we know, there was no previous investigation that might have identified them," he told the Cadena Ser radio station. "Zero-risk doesn't exist when it come to these things. The anti-terror police services have done really good work for years and various attacks have been prevented."
One of the arrested men was
Driss Oukabir
, a 28-year-old Moroccan initially named as a suspect. On Thursday evening, reports emerged suggesting Oukabir had handed himself in to police after seeing his photograph being circulated online and in the media. He apparently told officers that his identification documents had been stolen before the attack and that he had played no part in it. He was arrested in the town of Ripoll, where he lives, about 60 miles north of Barcelona.
The other detained suspect was a Spaniard born in the north African enclave of Melilla. He was held in Alcanar.
The use of vehicles as weapons is now a well-established terror tactic and has been seen in attacks in France, Germany, Sweden and the UK in the past 13 months.
Rajoy, the Spanish prime minister, cancelled his holiday in Galicia, north-west Spain, to return to Madrid. The Catalan president, Carles Puigdemont, and the mayor of
Barcelona
, Ada Colau, also cut short their holidays to return to the city, as the regional government announced an emergency meeting.
Las Ramblas is the boulevard known to all visitors to Barcelona. Leading down from the large, open Plaça de Catalunya, the tree-lined boulevard is a shady release from the beating heat of the square.
At almost any time of the day, the area is full of people buying newspapers, postcards and souvenirs in the kiosks or looking at the flower stalls. Early on Thursday afternoon, with locals mostly away on holiday, a large number of those people were tourists.
Albert Tort, an off-duty nurse who was one of the first on the scene, said he tried to give an Italian tourist life-saving treatment, but there was nothing he could do. "The pavement was full of bodies," he told TV3.
Other witnesses spoke of panic as people fled the scene. Jordi Lino, who was on a bus, said: "First I saw people running and then the van. There were injured people in the middle of Las Ramblas."
Lourdes Porcar told Spanish TV she had seen the van running people over. "It was going very fast, without caring about who was in its way," she said.
Patrick Tuenter, 20, a law student from Nijmegen, the Netherlands, was on the first day of his holiday. He reported "a scene of total chaos" as he returned from the beach. "People were screaming, there were a lot of wounded people," he told the Guardian.
At least 600 people were stuck inside restaurants in the area waiting for permission to leave, as police locked down the area and warned people to stay away.
In the panicked moments after the attack, rumours flew around the city, including reports of gunfire in El Corte Inglés department store – later confirmed as untrue by local police, who advised people to follow official sources for updates.
Catalan emergency services advised people to stay away from the area around Plaça de Catalunya. Police asked people to communicate via social media and messaging instead of phone calls, as mobile telephone coverage was saturated.
More than 1,000 people on Facebook volunteered to help the victims, with offers ranging from water to shelter and translation.