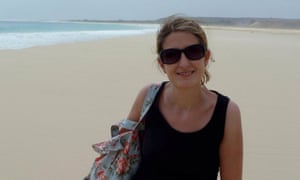 Brazilian police say they have identified those responsible for shooting Eloise Dixon, the British tourist who was wounded by two bullets when her family's rented car entered a favela north of Rio de Janiero and came under fire from members of a drug gang.
"We already have the dynamic of what happened," the investigating officer, Bruno Gilaberte, said on Tuesday. Arrest warrants have been issued for four men and two boys. One suspect is already in custody.
Dixon's husband, Maxwell, was driving a hired Renault from Rio to the coastal resort of Paraty with their three young daughters when the family decided to stop nine miles before the tourist town of Angra dos Reis. According to a statement he gave to police, their car failed to stop for a group of armed men who then opened fire. Police said the men were members of a gang selling drugs. His wife, 46, was hit in the thorax and abdomen, but has since been discharged from hospital. The case has sent shockwaves through Brazil's tourist sector. One of those accused, Jackson Lima Ferreira, 19, was arrested last Saturday after a police operation in Sapinhatuba 3, another favela in Angra. Ferreira was injured and two other men were killed during the operation.
Police recommended charges of attempted homicide and association with the drug trade against him and two other men, who are still being sought. Police have also recommended charges against a fourth man and two teenage boys who remain at large.
Gilaberte said members of the gang approached the family's car and opened fire when it tried to accelerate away.
"These two fired directly at the car, in the direction of the car," Gilaberte said.
"They fired at a car which had five people in it, with the risk of hitting any one of them, including Maxwell and the children," he said. "The arms are a way for them to show power to the community."