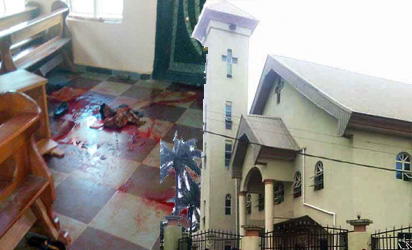 The Ozubulu community in Ekwusigo Local Government Area of Anambra State has released a comprehensive report of last Sunday attack of worshippers at St Philips Catholic Church, Amakwa, Ozubulu where many people lost their lives while several others got gunshot wounds.
This is even as the umbrella socio-political organisation of Ndigbo, Ohanaeze, yesterday, condemned the killings. In a statement by Ozubulu Development Union, ODU, Caretaker Committee, entitled "Senseless and brutal murder of worshippers at St. Philips Catholic Church, Amakwa-Ozoubulu" signed by Deacon Iykebest Malizu, the community said it was still mourning the loss of their loved ones.
According to the statement, "the taboo is shocking and devastating to the entire community and beyond." Speaking after an emergency security meeting at Ugwuorie-Ozubulu, chairman of the Caretaker Committee, Dr Chukwuka Ernest, regretted the attack and wondered why such a dastardly act should happen in the house of God. Also reacting, President-General of Amakwa-Ozubulu Development Union, Deacon Iykebest Malizu, on behalf of Amakwa community condemned the attack.
e dismissed the story of communal problem being peddled in some quarters as the cause of the attack, saying there was no communal problem in Amakwa-Ozubulu and enjoined the community to be steadfast and more prayerful as God will reveal all at the appointed time. On behalf of the town union, he thanked all men and women of goodwill who assisted the victims to the hospitals and the dead to the morgues for their care and dedicated service.
He said: "We most sincerely appreciate and thank Governor Willie Obiano for his very prompt arrival to the scene of the horror and his immediate and subsequent visit to the Nnamdi Azikiwe University Teaching Hospital, Nnewi where he consoled with the victims and pledged to foot the medical bills of the wounded as well as assist with the burial.
Source: Vanguard Newspapers